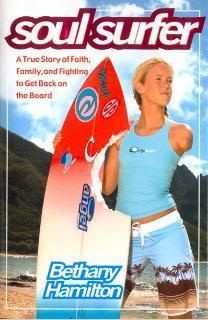 SOUL SURFER
Based on a True Story.
Starring: AnnaSophia Robb, Hellen Hunt, Dennis Quaid, Craig T Nelson, Kevin Sorbo & Carrie Underwood
Based on the true story of Bethany Hamilton, a 13 year old competitive surfer with big dreams and a courageous spirit. Coming from a family of surfers, riding the waves is all Bethany can dream about. But her dreams turn into a nightmare after a sudden shark attack takes her left arm and her hopes of ever surfing again.
Soul Surfer is an inspirational film for the entire family about overcoming obstacles and turning tragedy into triumph.
Filmed entirely in Hawaii, it offers some gorgeous cinematography and wonderful surf-action shots and features an all-star cast including Helen Hunt, Denis Quaid, Craig T Nelson and AnnaSophia Robb as Bethany, the teen titan with a heart of gold.
Soul Surfer is a well produced film, that leans heavily on it's soul-lifting story, stellar acting and a rocking soundtrack on a moderate budget. It's encouraging to see such big Hollywood names doing such inspirational family fare without the inflated-sized salary demands.
Helen Hunt and Dennis Quaid actually seem to be enjoying themselves alongside the rising talents of the young cast members, most notably AnnaSophia Robb, best remembered for her role in Bridge to Terabithia, Jumper and Because of Winn Dixie. AnnaSophia delivers a powerful and gripping performance that is sure to win your heart and leave you breathless as she struggles to overcome all odds. Carrie Underwood seems a bit misplaced as the youth pastor who comforts and encourages Bethany, but while her screen time is short, she proves that singing may not be her only talent.
For a film based on a true story, I got caught up in the action and well paced story-telling. I found myself entranced by and caring for each of the characters. When the shark attack scene unfolded, I found myself holding my breath and completely taken in by the film. A rare victory few films can achieve.
I admired the way the film presented Bethany's family and their Christian faith, being faithful to church and being such positive role models. But I was disappointed in the failed opportunity to present more biblical truth to a secular audience. Like many recent films being marketed to a Christian audience, the presented faith in Soul Surfer was played a bit too safe and generic to arouse any converts since it lacked in any gospel message, but if viewed with a Christan who knows how to use the film as a topic starter, it can be a great tool or ice breaker.
Another refreshing bonus was the lack of any profanity or sexuality, making it completely suitable and safe for viewing in a church or youth group setting.
I highly recommend this entertaining and uplifting film for the entire family. Set to be released in theaters nationwide April 8th.
- OneWayFilms
http://www.soulsurferthemovie.com/
Read more:
OneWayFilms.net